Description
About
Unripe plantains are a versatile and nutritious staple food in many tropical regions. They have a firm, starchy texture and a slightly sweet, neutral flavor when cooked.
They can be sliced and fried to make crispy chips, mashed and formed into cakes, or diced and cooked in soups and stews.
They are a good source of complex carbohydrates, potassium, and vitamin A. Unripe plantains are typically green and firm to the touch, and they will ripen over time to become sweeter and softer. They are a great choice for adding a unique, hearty texture to any meal.
Plantains are a type of banana that are typically larger and have a thicker skin than the sweet, yellow bananas that are commonly found in supermarkets.
They are usually eaten cooked rather than raw, and are used in a variety of dishes across the Caribbean, Africa, and Central and South America. They are used in similar ways to potatoes, and can be boiled, mashed, fried, or grilled.
Plantains can be cooked as a savory or sweet dish. Unripe plantains are typically savory and used as a side dish, while ripe plantains are sweeter and used in desserts or as a snack. They are a good source of fiber, vitamins B6, C, and magnesium.
One of the most popular dishes made with plantains is "tostones" which are twice-fried slices of unripe plantains. They are typically served as a side dish with a variety of meals, including meat, fish, and beans. Another popular dish is "plantain porridge" which is a sweet porridge made by mashing ripe plantains and adding milk and sugar.
Note
One thing to note is that, when cooking with plantains, it's important to use unripe plantains for savory dishes and ripe plantains for sweet dishes.
As plantains ripen, their starch content decreases, making them sweeter and softer. This means that unripe plantains will hold their shape better when cooked, while ripe plantains will be more suitable for dishes where a softer texture is desired.
Examples African plantain dishes
There are many traditional African dishes that feature plantains as a key ingredient. Some examples include:
Plantain and Egusi Soup: A popular West African dish that combines plantains with a ground melon seed paste, known as Egusi, to create a hearty, flavorful soup.
Plantain Pottage: A Ghanaian dish made with mashed plantains mixed with palm oil, tomatoes, onions, and various spices. It is often served with fish or meat.
Plantain Porridge: A sweet porridge made by mashing ripe plantains and adding milk, sugar, and spices. It's a popular breakfast dish in many African countries.
Plantain Fufu: A staple food in Nigeria, plantain fufu is made by boiling, mashing, and then pounding unripe plantains until they form a dough-like consistency. It is typically served with a stew or soup.
Matoke: A Ugandan dish made by steaming unripe plantains in a banana leaf. It's often served as a side dish with meat or fish.
Alloco: A popular street food in Côte d'Ivoire and Senegal, alloco consists of fried slices of unripe plantains served with a spicy tomato and onion sauce.
Plantain Moi Moi: A Nigerian dish that combines mashed ripe plantains with beans and spices, wrapped in banana leaves and steamed.
Plantain Mofongo: A dish from the Caribbean island of Puerto Rico that is made from mashed plantains, garlic, and pork crackling. It's traditionally served as an appetizer or side dish.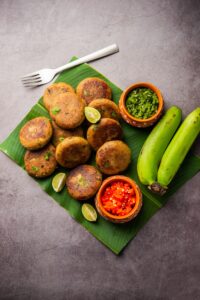 If you are looking for unripe plantains in the UK, Ofoodi UK is a great option to consider. They offer a wide variety of fresh and high-quality produce, including unripe plantains.
You can easily purchase your desired items from the comfort of your own home by visiting their website at ofoodi.com. Simply add the items you want to your cart, proceed to checkout and make payment, and your order will be delivered right to your doorstep.
Ofoodi UK Apps
In addition to their website, Ofoodi UK also has a mobile app that is available for download from the Apple App Store and Google Play Store. The app is user-friendly and allows you to easily browse through their selection of products and place an order with just a few taps.
You can even save your payment and delivery information for a faster and more convenient checkout experience. Whether you prefer to shop online or on-the-go, Ofoodi UK has you covered.
Shipping
Shipping starts from £6.99 and your order must be placed before noon to guarantee a next day delivery.
Fried Dodo Recipe
This "recipe," if it can even be called that, is so uncomplicated that you can prepare it effortlessly, even with your eyes closed. There's no need for any extra components or convoluted cooking techniques. The process of making these fried sweet plantains is so straightforward, yet they always satisfy your cravings!
Ingredients
You won't believe how minimal the ingredients are. All you need are high-quality plantains.
Plantains: This cooking banana has the flexibility to be used as a vegetable or fruit. If they are green, they can be used in a similar manner as potatoes.
Vegetable Cooking Oil: A neutral oil that can withstand high temperatures is the ideal choice.
Salt: A staple ingredient that elevates the flavor and doubles as a natural preservative.
Frying Sweet Plantains – The Easy Way
Don't let the thought of frying plantains stress you out. The saying goes, "Keep it simple, stupid." And that's exactly what you'll be doing with these effortless fried sweet plantains. They're the perfect accompaniment to your preferred savory dish or a delicious snack. So, sit back and enjoy!
Preparing the Plantain
Slit the Ends – Use a sharp knife to remove both ends of the plantain. This will make it easier to remove the skin. Make a shallow cut along the length of the plantain.
Cut into Pieces – Cut the plantain into diagonal slices or medium-sized pieces and place them aside. You can also cut them into smaller pieces, if desired.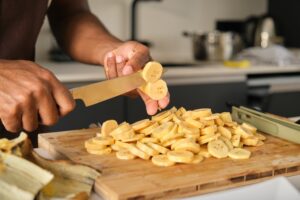 Frying Plantains Made Simple
Preheat the Oil: In a large skillet, heat oil over medium-high heat. To check if the oil is ready, drop in a slice of plantain. The oil should sizzle immediately. If it doesn't, wait another minute or two. If the oil is too hot, remove the skillet from heat and let it cool for 2 minutes.
Fry and Turn: Fry the plantains in batches until they reach a golden brown color, about 2-3 minutes on each side. Keep cooking and turning them occasionally until they are soft and deeply golden brown, taking 5-7 minutes in total.
Plate and Season: Use a slotted spoon to transfer the fried plantains to a plate or tray lined with paper towels. Season with salt or cinnamon sugar to taste, and serve hot. Enjoy!