Egusi Soup: A Popular Dish in Nigeria
Egusi soup is a staple dish in Nigeria, with its popularity extending beyond the country's borders to those who enjoy Nigerian cuisine. The soup, made from melon seeds, is known by different names among the various tribes in Nigeria: Miyan Gushi in Hausa, Ofe Egusi in Igbo, and Efo Elegusi in Yoruba. Regardless of the name, it is a delicious and flavorful soup that has captured the hearts of many.
There are three main methods of cooking Egusi Ijebu soup, each with its unique flavor and preparation technique. The first is the Fried Egusi Soup, also known as the Oil Before Egusi Method, where the egusi is fried in palm oil before other ingredients are added. The second method, Akpuruakpu Egusi, involves molding the ground egusi into balls, which are cooked in the soup and enjoyed as a form of "meat". The surrounding egusi in the soup is prepared using the caking method.
The third method, and the one detailed in this article, is what is referred to as the Caking Method of cooking Egusi Soup, or the Egusi Before Oil method. This method involves adding the ground egusi to the soup and stirring until it forms a cake-like consistency, and then adding palm oil and other ingredients to create a flavorful soup.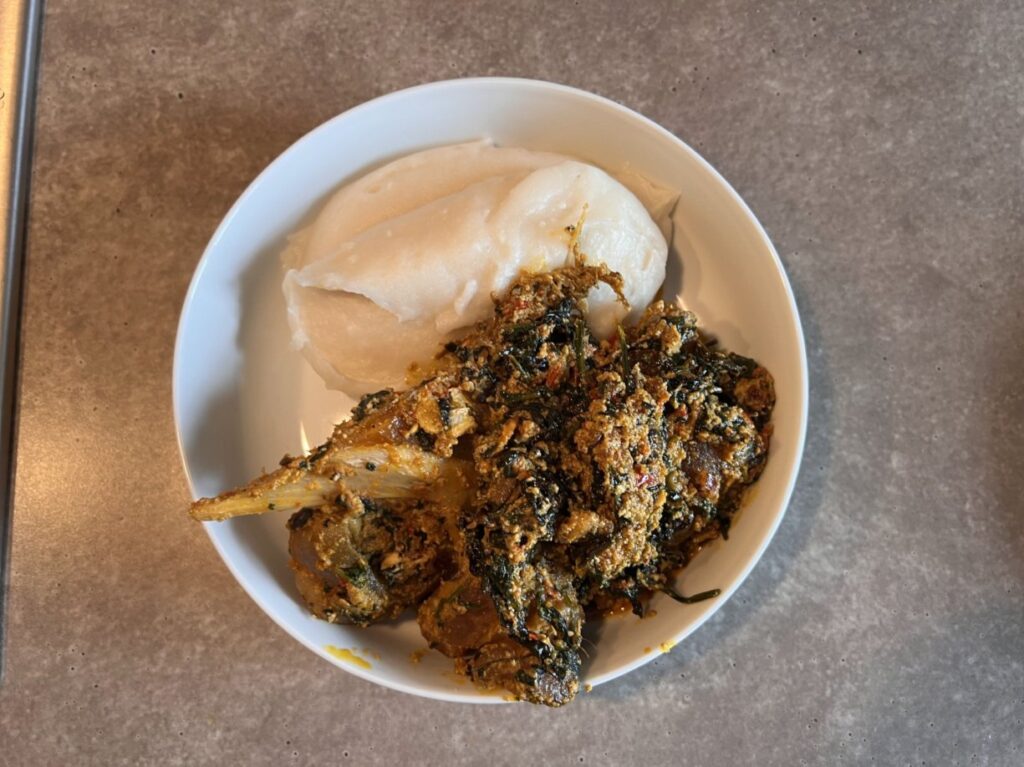 Egusi soup is enjoyed with a variety of fufu recipes and is sure to satisfy anyone looking for a delicious and hearty meal. Whether you choose the Fried Egusi Soup, Akpuruakpu Egusi, or the Caking Method, you are sure to enjoy the flavors and aromas that Egusi soup has to offer.
Ingredients
4½ cups (600g) Egusi (Melon) seeds
2 cooking spoons red palm oil
Beef: Best cut and Shaki (cow tripe)
Fish: Dry Fish and Stock Fish
3 tablespoons ground crayfish
Pepper and Salt (to taste)
Vegetable: Nigerian pumpkin leaves, spinach or bitter leaves
3 small stock cubes
1 Ogiri Okpei (traditional locust bean seasoning: optional)
Before you cook Egusi Soup (Caking Method)
To prepare the soup, soak dry fish for 30 minutes. Boil tough stockfish for 20 minutes and let it soak in the hot water for an hour. For softer stockfish, simply soak in cool water until they can be easily broken apart with your hands.
Once the fish and stockfish have become soft, remove bones and cut into appropriate sized pieces.
Close to your cooking time, grind the egusi using a dry mill. Grind the crayfish and dry pepper separately, and set them aside. Clean the vegetable and chop into small pieces.
Cooking Instructions:
Boil 1 litre of water with shaki, stock fish, and dry fish and stock cubes until the shaki curls.
Wash and cook the beef in a pot on medium heat until done.
Once the shaki, fish, and meat are cooked, add crayfish and pepper, stir, and remove the meat from the stock.
Add the ground egusi to the remaining stock and stir. If the consistency is too thin, add water to reach the consistency of evaporated milk or a bit thicker.
Cover and cook until the egusi cakes. Stir and add a bit of water to avoid burning.
Repeat step 5, adding a small amount of water each time. After about 25 minutes, the clear egusi oil will rise to the surface of the soup.
Add red palm oil, bitter leaves (if desired), pepper, and salt to taste and cook for 7 minutes until the palm oil and egusi form a light yellow blend.
Add the cooked meat and fish, and any soft vegetables, and stir the soup.
Add salt to taste, stir, and simmer for 2 minutes.
Turn off the heat and allow to stand for 5 minutes before serving.
This technique creates a healthier egusi soup as it does not require frying and uses less oil.
The egusi soup is ready to be served with Garri (Eba), Semolina Fufu, Amala, Cassava Fufu or Pounded Yam.