Description
About
Indulge in the delicious taste of Indonesia with Indomie Noodles Chicken Flavour. Every bite is a symphony of flavors and aromas, tantalizing your senses.
The perfectly cooked noodles and rich, savory chicken broth will transport you to the vibrant streets of Indonesia with each slurp.
This instant noodle is not just a meal, but a gourmet adventure for your palate, made with high-quality ingredients.
Enjoy a delicious, authentic taste in the comfort of your home. Simply boil the noodles for 3 minutes, add the seasoning, and savor.
Upgrade from ordinary instant noodles to Indomie Noodles Chicken Flavour and experience the taste of Indonesia.
Popularity
Indomie Noodles Chicken Flavour is particularly popular in Indonesia, where it originated, as well as in several African and Middle Eastern countries, where it has gained a strong following.
In these regions, Indomie is widely known as a delicious, affordable, and convenient instant noodle that has become a staple food for many families.
The rich, savory flavor of Indomie Noodles Chicken Flavour chicken broth and tender noodles has made it a popular choice for both kids and adults.
Additionally, its ease of preparation and portability make it a popular choice for people who are always on the go.
Read the amazing story of how Indomie Noodles saved a life.
Read the short story about how Indomie Noodles saved the life of a young African man in a remote village in Nigeria.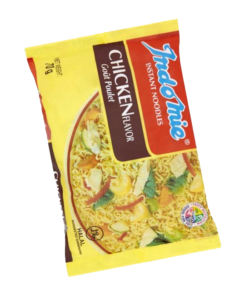 Ingredients
Instant Noodles: wheat flour (74%), refined palm oil (contains antioxidant E319), salt, acidity regulators (E451, E501, E500), thickener (E412), colour (E101)
Seasoning Powder: iodized salt, flavour enhancer (E621, E627, E631) sugar, garlic powder, yeast extract, chicken flavour, soy powder, chilli powder
Nutrition Information
| | | |
| --- | --- | --- |
|  Serving per package: 70g |  Ave qty per serving |  Ave qty per 100g |
|  Energy |  1334 kJ (317 kcal) |  1905 kJ (454 kcal) |
|  Fat, of which |  11.4g |  15.2g |
|  – saturates |  5.2g |  6.9g |
|  – mono unsaturates |  0.0g |  0.0g |
|  – polyunsaturates | 0.0g | 0.0g |
|  Carbohydrate |  49.4g | 65.9g |
|  of which | | |
|  – sugars |  3.1g |  4.1g |
|  Fibre | 2.1g |  2.8g |
| Protein | 7.7g | 10.2g |
| Salt | 3.0g | 4.0g |
Disclaimer
Where Can I buy Indomie Noodles?
Indomie noodles chicken flavour can be easily purchased in the UK through ofoodi.com, an online food delivery platform.
This platform provides a wide range of options for customers, including the popular Indomie noodles chicken flavour, which can be ordered and delivered right to their doorstep.
The website is user-friendly and allows customers to browse through a variety of products and make their purchases with just a few clicks.
Ofoodi.com also offers a convenient app for customers, which can be downloaded from the Apple and Google Play stores.
This app makes it even easier for customers to order their favorite Indomie noodles chicken flavour, as they can access the platform anytime, anywhere, with their smartphone.
The app also provides customers with regular updates on their orders and allows them to track their delivery in real-time.
By using ofoodi.com and its app, customers in the UK can enjoy a hassle-free and convenient way to purchase their favorite Indomie noodles chicken flavour.
Cooking Indomie Noodles
Shipping starts from £6.99 and your order must be placed before noon to guarantee a next day delivery.