Authentic African Groceries in Crewe
When it comes to exploring the vibrant flavors and culinary traditions of Africa, Crewe offers a delightful shopping experience for authentic African groceries. Just a stone's throw away from Crewe lies the Ofoodi African Store in Burslem, a treasure trove for food enthusiasts and culture aficionados. In this article, we will delve into the significance of African groceries in Crewe, celebrating its cultural diversity and the culinary wonders available at Ofoodi African Store.
About Crewe: A Tapestry of History and Diversity
Crewe, with its fascinating history and cultural significance, has evolved into a thriving town that embraces diversity. Founded as a railway hub in the mid-19th century, Crewe has undergone tremendous growth and transformation over the years. Today, it stands as a bustling community that celebrates various cultures and traditions, making it an ideal destination for residents and visitors alike to explore the rich tapestry of global cuisine.
The Significance of African Groceries in Crewe
Access to African groceries in Crewe plays a vital role in enriching the cultural diversity of the town. It allows residents to celebrate their African heritage, discover new flavors, and forge connections with their roots. African groceries contribute to the vibrant culinary landscape of Crewe, providing an opportunity for cultural exchange, appreciation, and understanding. They bring people together, fostering a sense of unity and community spirit.
Ofoodi African Store: A Gastronomic Haven
Situated in Burslem, Ofoodi African Store is a culinary treasure trove that caters to the growing demand for authentic African groceries. As you step into the store, you are greeted with an array of sights, sounds, and aromas that transport you to the heart of Africa. Ofoodi African Store prides itself on offering the best pricing in the market, ensuring that customers can explore the flavors of Africa without breaking the bank.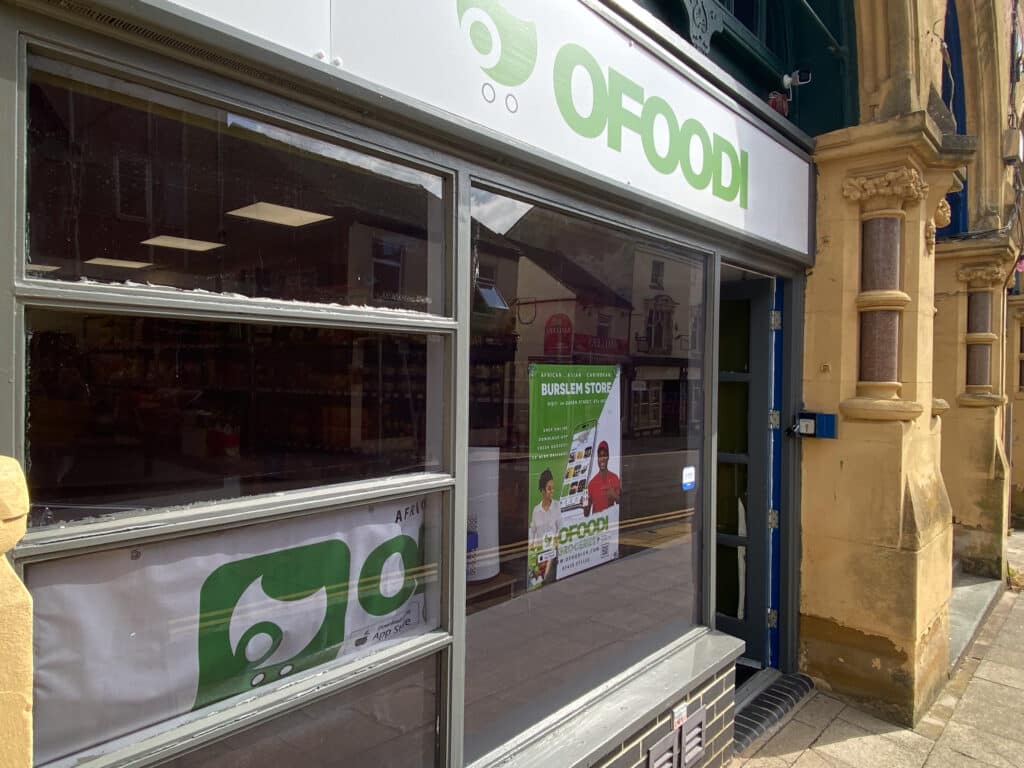 The store boasts an impressive variety of African groceries, sourced directly from the continent, guaranteeing authenticity and freshness. From Nigerian staples like jollof rice ingredients, palm oil, and egusi seeds to East African spices, South African delicacies, and North African couscous, Ofoodi African Store caters to diverse culinary preferences. You can find a plethora of frozen meats, poultry, and vegetables, ensuring that you have access to high-quality ingredients for your African-inspired dishes.
The Ofoodi UK App: A Seamless Shopping Experience
To enhance convenience and accessibility, Ofoodi African Store offers the Ofoodi UK App, available for download on Apple and Google Play Stores. With the app, customers can browse the extensive catalog of African groceries, place orders, and have them delivered right to their doorstep. The Ofoodi UK App simplifies the shopping experience, providing a user-friendly interface, secure payment options, and the ability to track orders, ensuring a seamless and efficient process.
Burslem: A Rich Heritage
Burslem, with its illustrious history in the pottery industry, serves as the perfect backdrop for Ofoodi African Store. The store is situated in the iconic Burslem Market building, which holds significant historical and cultural value. Burslem's connection to the pottery trade reflects its entrepreneurial spirit and rich business heritage. The presence of Ofoodi African Store within this historical building adds to the unique shopping experience, merging the town's past with its vibrant multicultural present.
Conclusion
Ofoodi African Store in Crewe stands as a beacon for those seeking the authentic flavors and cultural richness of African cuisine. It has become an essential part of the town's cultural fabric, catering to the diverse tastes and culinary desires of residents and visitors alike. Whether you choose to visit the store in person or utilize the convenient Ofoodi UK App, you are invited to embark on a gastronomic journey through Africa and discover the vibrant flavors that await you.
Vist Ofoodi Store In Burslem
Indulge your taste buds and experience the diverse flavors of Africa by visiting Ofoodi African Store in Burslem or downloading the Ofoodi UK App. Immerse yourself in the culinary wonders of the continent, celebrating the cultural diversity and richness that African groceries bring to Crewe.