Introduction – African Food In Stoke On Trent:
Experience the vibrant tapestry of African food in Stoke On Trent at Ofoodi African Store. Located at 24 Queen Street, Burslem Stoke On Trent, ST6 3EG, Ofoodi African Store is the ultimate destination for exploring a wide array of authentic Nigerian and Afro-Caribbean groceries. With their unwavering commitment to quality ingredients and competitive pricing, Ofoodi African Store caters to both online and in-store shoppers, providing an immersive and convenient shopping experience.
Unveiling Ofoodi African Store:
Nestled in the heart of Stoke On Trent, Ofoodi African Store invites you to embark on a culinary adventure through the rich flavors of Africa. Conveniently situated at 24 Queen Street, Burslem Stoke On Trent, ST6 3EG, this store is a treasure trove of authentic African, Nigerian, and Afro-Caribbean food products. Whether you prefer to shop online or in person, Ofoodi African Store is dedicated to providing a delightful and seamless shopping experience.
The Best Pricing and Unmatched Variety:
At Ofoodi African Store, you can indulge in the best pricing without compromising on quality. Their extensive selection encompasses a diverse range of African food products, including a remarkable assortment of Nigerian staples and Afro-Caribbean favorites. From aromatic spices that titillate the senses to essential ingredients like yam flour, palm oil, and plantains, Ofoodi African Store proudly boasts the largest variety of African food products in Stoke On Trent.
Online Shopping Experience:
For the utmost convenience, Ofoodi African Store offers an intuitive solution with the Ofoodi UK App, available on both the Apple App Store and Google Play Store. The user-friendly app enables customers to browse a comprehensive catalog of African, Nigerian, and Afro-Caribbean products with ease. With just a few taps, you can explore the tantalizing flavors of Africa and have your groceries conveniently delivered to your doorstep. Moreover, the app regularly features exclusive promotions and discounts, making your culinary journey even more enticing and affordable.
Shopping on the Ofoodi African Store website is a seamless and user-friendly experience that allows you to explore the vibrant world of African, Nigerian, and Afro-Caribbean groceries with ease. The website features a comprehensive catalog of products, neatly categorized for effortless navigation. Browse through the extensive selection of authentic ingredients, spices, snacks, and more, all from the comfort of your own home. With detailed product descriptions and clear images, you can make informed choices and discover new culinary delights. The website also provides convenient search and filtering options, making it effortless to find specific items or explore new flavors. Once you've selected your desired products, the secure checkout process ensures a smooth transaction. Shopping on the Ofoodi African Store website brings the flavors of Africa directly to your fingertips, providing a convenient and accessible way to embark on your African food journey.
Convenient UK-Wide Delivery: Bringing the Flavors of Africa to Your Doorstep
Ofoodi African Store goes beyond serving the local Stoke On Trent community by offering UK-wide delivery. No matter where you are in the UK, you can enjoy the convenience of having authentic African, Nigerian, and Afro-Caribbean groceries delivered right to your doorstep. With their reliable and efficient delivery service, Ofoodi African Store ensures that everyone in the UK can access the vibrant flavors of African cuisine. Whether you're craving Nigerian jollof rice ingredients, Afro-Caribbean spices, or specialty African food products, Ofoodi African Store is committed to bringing the essence of Africa to your kitchen, no matter where you are in the country. Explore the diverse tastes of African food and have them conveniently delivered to your home with Ofoodi African Store's UK-wide delivery service.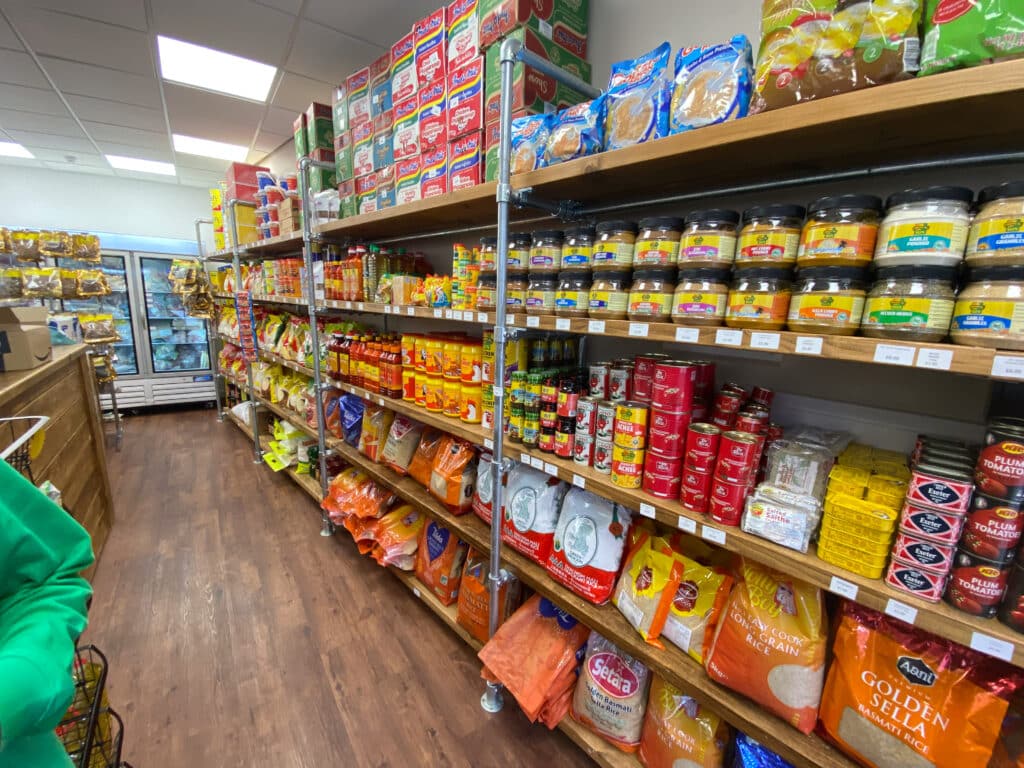 In-Store Shopping Experience:
Stepping into Ofoodi African Store is akin to immersing yourself in the bustling markets of Africa. The store's warm and inviting ambiance creates a welcoming environment, while their knowledgeable staff is always ready to assist you in finding specific Nigerian food products or introducing you to new Afro-Caribbean ingredients. Meander through the well-stocked aisles teeming with authentic African groceries, and let your imagination soar as you plan your culinary creations.
Ofoodi African Store Receives Recognition in Stoke Sentinel News
Ofoodi African Store, a family-run business specializing in African and multi-ethnic food, gained recognition in the Stoke Sentinel newspaper on May 28th, 2023. The article highlighted the store's recent opening in Burslem, led by Dide Olufelo-Adewale and her husband Busayo Adewale. The couple, along with their young daughter, relocated from Kent to Burslem, driven by their vision to provide African and culturally diverse food options to the local community. Recognizing a gap in the market, Ofoodi African Store embarked on this venture, aiming to integrate with the community and offer a wide range of products. The store's commitment to diversity and quality has garnered appreciation from customers who have expressed gratitude for the introduction of cultural variety to Burslem. Supported by Keele University's business support programs, Ofoodi African Store aims to serve the entire community, offering both ethnic and British foods, and plans to host events in the future to promote culinary exploration. With halal meat options and an extensive selection of items such as cassava, lentils, beans, maize, and jollof seasoning, Ofoodi African Store provides a comprehensive shopping experience. Open six days a week, customers can also enjoy online ordering with a 10% discount on delivery orders.
Conclusion:
Embark on a gastronomic odyssey through the diverse flavors of African food in Stoke On Trent, guided by Ofoodi African Store. As the premier destination for Nigerian and Afro-Caribbean groceries, Ofoodi African Store offers the best pricing, an unparalleled variety of African food products, and a seamless shopping experience. Whether you're seeking essential Nigerian ingredients or yearning to explore the vibrant cuisine of the Afro-Caribbean diaspora, Ofoodi African Store is your gateway to authentic flavors. Discover the delights of African food in Stoke On Trent, and let Ofoodi African Store become your trusted source for Nigerian and Afro-Caribbean culinary treasures.